World-class testing and R&D services
Latest News
RC @ Tire Technology Expo 2019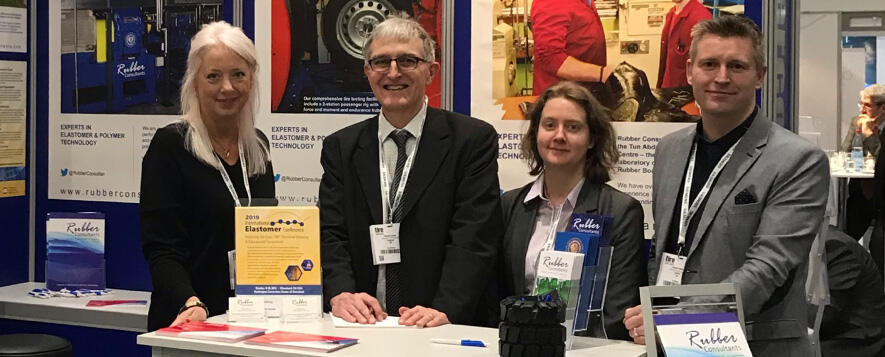 Rubber Consultants exhibited in Hall 19 on Stand C503 at Tire Technology Expo 2019 in Hannover, Germany from 5th - 7th March 2019.
Rubber Consultants has everything you need to thoroughly analyse your tyres to comply with legislation.
Our comprehensive tyre testing facilities include a 2-station passenger test rig with force & moment and endurance hubs. Two other test drums are accredited by UKAS for endurance testing to the ECE Regulations and the laboratory is a Technical Service to the VCA for tyre type approval. We also offer PAH testing, wear testing, retreading facilities and analysis of tyre construction and tyre component formulations.
TTE offers the visitor a technology showcase covering materials and equipment through the complete spectrum of the tire design and manufacturing process. TTE also offers visitors, exhibitors, and conference delegates an unrivalled networking opportunity within the tire design and manufacturing sector.
As proud Platinum Sponsors of the International Rubber Conference 2019 (IRC2019), in London for the first time ever from 3rd – 5th September 2019 at the KIA Oval Cricket Ground, we had on our Stand C503 everything you needed to know about this not-to-be-missed event for the global rubber industry. www.irc2019.org
As proud European Partner and Corporate Member of the Rubber Division, ACS we were also pleased to have available on Stand C503 information about the benefits of membership of this prestigious and world renowned organisation, as well as how you can participate in the International Elastomer Conference and Rubber Expo 2019 (IEC 2019), 8th – 10th October 2019, Cleveland, Ohio, the USA's most important event for the rubber industry. www.rubber.org | www.rubberiec.org
If you did not make it to Tire Tech Expo 2019 but are interested in any of our services, the IRC2019, or the Rubber Division, ACS, please contact us either by email or follow our twitter accounts: @TireTechExpo @irc2019 @RubberDivision
For more information on TTE then take a look at the official exhibition and conference website at www.tiretechnology-expo.com.
If you need any of our servives please give us a call to discuss your requirements and get a quotation for any work you may have in mind. Call Rubber Consultants on +44 (0)1992 554657 or email info@rubberconsultants.com
Follow us on twitter @RubberConsultan