World-class testing and R&D services
Latest News
Rubber Consultants @ International Elastomer Conference 2017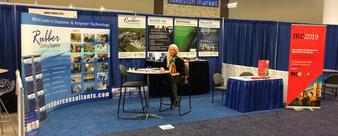 As Rubber Consultants packed away the booth at the end of the three days of exhibiting at the ACS Rubber Division International Rubber & Advanced Materials In Healthcare Expo, International Elastomer Conference and IRC 2017 at the Huntington Convention Center of Cleveland, Ohio from 9th-12th October 2017, it was quite clear that this could have been one of our most successful events in terms of exposure and making contact with the rubber industry.

TARRC/RC staff with first female Goodyear Medal winner, Prof. Judit Puskas, University of Akron and John Long, who won the IRCO Medal at this year's Annual Dinner, on Booth 1517 in Cleveland.

The hugely successful event, organised by the ACS Rubber Division, has become the must attend event on the elastomer industry calendar and an important meeting place for both academics and the manufacturing sector. Again, there was a great response from visitors to Booth 1517 looking to outsource product testing and in new materials Natural-FR/Ekoprena and vulcanising agent Novor 950. With all this interest Rubber Consultants is looking forward to expanding our customer base in North America and opening up new markets for these products. We were also pleased to embark on the first publicity for the IRC 2019 in London and is being hosted by the IOM3.

Bruce Meyer, the Editor of Rubber & Plastics News, interviewed Ed Miller, Executive Director of the Rubber Division, ACS (organisers of the IEC) towards the end of the Show and he said how well the conference and expo had gone over the three days in Cleveland. 'This is the biggest one we have had in about 12-13 years. We have been growing since 2011 every single year'. With nearly 5000 visitors registered at the event Ed continued, 'we have 280 exhibitors which is fantastic, that's the largest we have ever had. The Technical Symposium is the largest we have ever had, the buzz I am hearing, you can see it on the show floor, everyone's happy, it's going very well'. Asked what he attributed that growth to Ed answered, 'The industry, our Board of Directors, I have fantastic staff who have done a super outreach program, we have gone to other states and other countries forming new education partnerships and new training programmes. Also evolving into other markets, like healthcare, that's just one, I think all this adds up to why.' Full video interview here.

Rubber Consultants was pleased to make it into the Show Daily two out of the three days of the conference featuring stories of our new testing equipment and our involvement spreading awareness of the IRC 2019 in London for the IOM3.

Two papers were also presented at the conference by TARRC scientists Dr Anna Kepas-Suwara and Dr Jean-Louis Poisson. For more details click on the authors name.

Rubber Consultants at the Rubber IEC 2017 in Cleveland The IEC 2017 show floor at the Huntington Convention Center of Cleveland, TARRC/RC staff with Dr Will Mars from Endurica and Prof. James Busfield from Queen Mary University of London, discussing the IRC 2019 in London, also TARRC's Dr Anna Kepas-Suwara giving her paper at the conference.

If you were unable to attend the conference but you still need help from us then please get in touch with us. Rubber Consultants is much more than a test house. We provide in depth analysis, interpretation of results and solutions to problems. If you are looking for help with any aspect of product and material testing and analysis, packaging contact testing and E's & L's for the pharma and food industries, design and manufacture, failure analysis, REACH compliance, tyre testing and biotechnology services, Rubber Consultants is your perfect partner. Our state-of-the-art laboratories are based in the UK, just north of London, and with almost 80 scientists, technologists, engineers and supporting staff, all our services are carried out in-house.

For more information on the International Elastomer Conference 2017 please visit their official website www.rubberiec.org