World-class testing and R&D services
Latest News
Rubber Consultants @ DKT 2018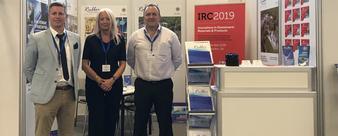 Rubber Consultants successfully exhibited its services on Stand 366 in Hall 12 at DKT 2018 (German Rubber Conference) in Nuremberg, Germany from 2nd - 5th July 2018. www.dkt2018.com
RC Business Manager Colin Robinson was quick to comment on the DKT 2018 upon his return from Nuremberg, 'The exhibition was an overwhelming success for us in terms of the amount and quality of our enquiries taken on the RC stand. We already have several potential customers visiting our laboratory over the next few months and look forward to doing business with new clients'.
NCC West of NürnbergMesse was the venue for the world-famous trade fair within the DKT 2018. The idea of the exhibition, absolute concentration on the rubber processing industry in all its facets. About 300 exhibitors and 3000 professionals along the value chain of rubber and elastomers were in attendance.
The conference program of DKT 2018 counts more than 130 presentations and 50 posters. Main points are applications, new technologies and markets, processing, raw materials and compounds, simulation, sustainability, and testing. The TPE Forum which focuses on this group of materials, a Tyre Day, and an University Session complete the lecture programme. In the additional Educational Symposium, you have the chance to take part in workshops and expand your knowledge.
If you are looking for help with any aspect of product and material testing and analysis, testing for the pharmaceutical industry, design and manufacture, failure analysis, tire testing and biotechnology services, Rubber Consultants is your perfect partner. Our state-of-the-art laboratories are based in the UK, just north of London, and with over 80 scientists, technologists, engineers and supporting staff, all our services are carried out in-house. Rubber Consultants is much more than a test house. We provide in depth analysis, interpretation of results and solutions to problems.
If you wish to find out more information on DKT 2018 then take a look at their official website at www.dkt2018.com.
The next German Rubber Conference is DKT 2021 from 28th June - 1st July 2021.