World-class testing and R&D services
Latest News
Rubber Consultants @ Tire Technology Expo 2017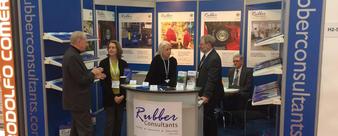 TARRC's consultancy Rubber Consultants exhibited at Tire Technology Expo 2017 for the tenth consecutive year on Stand 5004 in Hannover, Germany from 14th - 16th February 2017. TARRC scientists also presented papers at the accompanying conference.
Dr Stuart Cook, TARRC Director of Research, gave the prestigious Robert William Thomson Lecture, entitled 'Natural rubber – from carriages to cars and beyond' on Tuesday 14th February.

Dr Anna Kepas-Suwara presented a paper on 'AFM visualisation of interfaces in rubber compounds' on Wednesday 15th February and also chaired a Session.
Rubber Consultants showcased the tyre testing facilities at Brickendonbury which also has full capability for retreading as well as everything you need to thoroughly analyse your tyres to comply with legislation.

Recent upgrades to our comprehensive tyre testing facilities include a new 2-station passenger test rig with force & moment and endurance hubs. Two other test drums are accredited by UKAS for endurance testing to the ECE Regulations and the laboratory is a Technical Service to the VCA for tyre type approval. We also offer PAH testing, wear testing, retreading facilities and analysis of tyre construction and tyre component formulations.

TTE offers the visitor a technology showcase covering materials and equipment through the complete spectrum of the tire design and manufacturing process. TTE also offers visitors, exhibitors, and conference delegates an unrivalled networking opportunity within the tire design and manufacturing sector.

If you wish to attend or find out more information on TTE then take a look at the official exhibition and conference website at www.tiretechnology-expo.com.