World-class testing and R&D services
Latest News
International Rubber Conference & Exhibition 2019 - London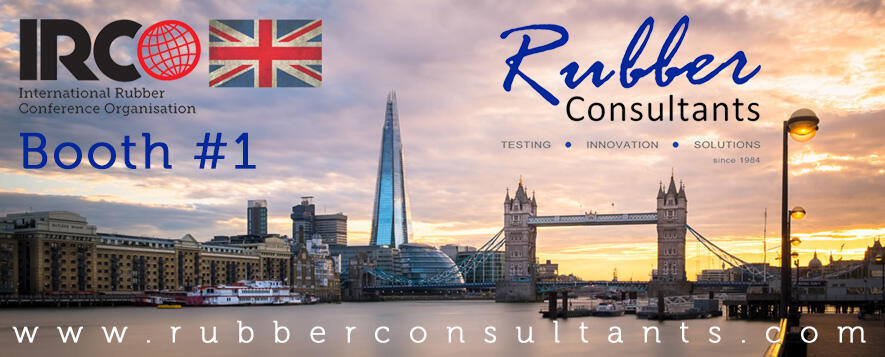 International Rubber Conference London 2019, 3-5 September 2019 www.irc2019.org
Rubber Consultants is one of the two proud Platinum Sponsors for the upcoming IRC2019.
We will be right at the entrance of the exhibition hall. Booth 1, at the Kia Oval from 3-5 September. Three of our scientists will be giving papers at the conference, Dr Marina Fernando, Dr Jean-Louis Poisson and Dr Pamela Martin
The Use of Three-Level Definitive Screening Designs in the Optimization of a Fire Retardant Modified Natural Rubber Compound for Technical Rubber Products; Natural FR. M Fernando, A Kepas-Suwara, C Forge, K Hall, S Moazami, and C Zouine
In-house design and preliminary results of a testing machine for rubber laminated bearings. J.L. Poisson, Hamid Ahmadi, A.H. Muhr, Ian Stephens, Vincenzo Orlando
Effect of Epoxidation on the Dynamic Properties of Natural Rubber. Judith Picken & Pamela Martin
The International Rubber Conference Organization and the Institute of Materials Minerals and Mining are honoured to invite international delegates to London, UK, for the IRC 2019.
The conference will provide a forum for academia and industry to come together to learn about technical advances in the global rubber market. Organisers are expecting over five hundred participants to attend the conference and exhibition over the three days. The comprehensive technical programme consists of over 150 papers delivered via four parallel sessions and over 60 posters.
London's premier conference and events venue, the Kia Oval, will play host to IRC 2019. Situated in the beating heart of London, the Kia Oval is one of the oldest and most historic stadiums in the world. In the 21st Century, it is now renowned as one of the finest modern sports venues, playing host to international and first class cricket throughout the summer. The impact, style and history of a world class sporting venue, makes the Kia Oval a truly unique location for the conference.
The year 2019 will commemorate the 200th anniversary of Thomas Hancock's pioneering work with natural rubber in London. His early attempts to find a suitable solvent having failed, he used his knowledge of machines and experience as a skilled tool maker to develop a mechanical method of processing rubber. On display in the exhibition hall will be one of the original Hancock masticators dating from the mid-19th century.
Original papers will be invited to be presented that reflect current research and technology within the rubber industry in sectors and disciplines such as defence, civil engineering, minerals extraction, biomedical, sustainability, adhesives, sport & leisure, robotics, transportation, oil and gas. Other topics for discussion include environmental and sustainability issues in the industry as well as innovations in polymer production.
The exhibition that is free to attend (preregister on www.IRC2019.org) between 10am and 4pm each day has attracted over 60 exhibitors from all aspects of the industry and all corners of the world.