World-class testing and R&D services
Latest News
Rubber Consultants Open Day 2018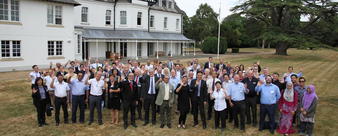 On Wednesday 18th July 2018 Rubber Consultants held an Open Day at Brickendonbury, Hertford in conjunction with TARRC's 80th Anniversary celebration. This event was the 'Gateway to the Malaysian Rubber Industry Open Day' which invited eight Malaysian manufacturers to meet over 100 guests from the global rubber industry, including rubber scientists, technologists, academics and industrialists from across Europe, North America and Australia.
The day provided a great platform for buyers/importers/distributors of rubber-based products and materials to meet face-to-face with Rubber Consultants staff and Malaysian manufacturers in the UK and discuss topics of mutual interest. The Open Day was planned for the week when the TARRC Board also met for its 2018 AGM, providing the perfect opportunity for Board members to meet with scientists, technologists and engineers as well as with RC's business and research contacts.
Guests were also able to visit the laboratories accompanied by RC staff who all proved to be very informative guides. Visitors were given short presentations at each area including biotechnology, microscopy, mill room, engineering and tyre technology. All these facilities are available to clients worldwide through Rubber Consultants that provides testing and R&D services for the polymer-related industry.
Organisations such as TARRC do not last for 80 years if they are not relevant, dynamic and innovative. The dedication of the staff, both present and past has been responsible for many of the significant advances in rubber science, technology and applications over the decades. TARRC, throughout its lifetime has been able to attract staff of the highest calibre and has continued to do so in key fields. Some of familiar names include; Rivlin, Thomas, Mullins, Schallamach, Lindley to name but a few. Among past members of staff and Board members are a Nobel Prize winner for Chemistry in 1937, three Fellows of the Royal Society (FRS) - in connection with their work at TARRC, and five who were inducted into the University of Akron Hall of Fame. Fifteen have been honoured with the Colwyn Medal, six have received the Hancock Medal, from the Institution of the Rubber Industry, UK, and several others have received the Charles Goodyear Medal, George Stafford Whitby Award, and Melvin Mooney Distinguished Technology Award from the USA. TARRC itself was honoured with the Prince Philip Award for Services to Mankind in 1990 for developing natural rubber-steel laminated base isolation bearings for protecting buildings from earthquakes'.
Dr Zairossani Mohd Nor, Director General of the Malaysian Rubber Board and Chairman of the TARRC Board along with Dr Fauzi Mohd Som, TARRC CEO, welcomed all visitors to Brickendonbury on the back lawn before lunch for a cake cutting ceremony with the Board and commemorative plaque presentation.
As part of the day, visitors were then treated to a traditional Malaysian lunch including well-known favourites chicken satay and beef rendang that was enjoyed by everyone!
As part of this 'Rubber Week' for the Malaysian manufacturersvisits were made to two factories, Clwyd Compounders Ltd in Wrexham to see their fantastic, state-of-the-art new facility, and Plastic Products International Ltd in Harlow who supply customers including Volkswagen, Bentley Motors, Aston Martin and other Tier 1 suppliers. An 'Innovation Morning Meeting' also took place at TARRC on Friday 20th July with guest speakers Matthew Dronfield from Freyssinet talking about innovations with rubber products in the civil engineering industry and Chris Waterhouse from CJ Waterhouse who spoke on millroom automation. TARRC is uniquely placed to support and promote the industry in Malaysia as the global centre for rubber. The research centre's world-class research, high skilled staff and state-of-the-art facilities will ensure that research excellence will continue to provide a competitive advantage for Malaysia and a great independent service to RC clients.